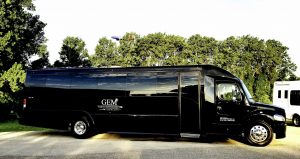 Transportation tends to be the last thing people think about, when planning an event, but the first and most important thing, at time of the event.
With so many things going on at once throughout the entire event, you need to make sure things are in place ahead of time. An experienced transportation company will be able provide efficient shuttle service that can help get all your guests where they need to be before, during, and after the event. Here are a few things to think about as you move forward with planning the event.
First Impressions

Making a good first impression will set the initial tone for the entire event.  Staying organized and establishing clear channels of communication will create confidence among your attendees/guests. Securing the transportation and establishing routes, to/from the airport, for out of town guests, will remove unnecessary stress and contribute to a better overall experience for all involved parties.
Planning Ahead

The amount of vehicles needed is going to vary depending on not only how many guests there are, but also how frequently people need to be traveling to and from various venues, including the hotels, airports, and other important destinations.  Planning ahead and again communicating to guests before, during and after event, is critical in this process.
Create incredible advertising opportunities by partnering with local companies, event sponsors and/or other advertisers by utilizing space on the outside of shuttles. Since these vehicles are going to be visible around the city, and seen by hundreds or thousands of people every single day, not to mention all the passengers, this is a great marketing opportunity plus can help with the overall transportation expense. Custom vehicle wraps and/or signs, can be designed and then used on the shuttles, which provides quite a large canvas to promote a particular product or company. Make sure you receive prior approval, of signage and how it will affixed to vehicle, in writing, with transportation company.
Let our reservation specialists at GEM Transportation, help with planning your event. No matter how many people you need to shuttle – we have just the right vehicle for you.
Call us at (314) 731-1707 or visit us at www.gemtransportation.com