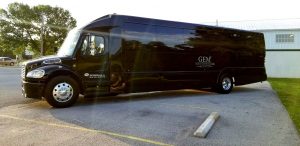 What to Look For When Selecting a Transportation Service
Is the company properly licensed by the Department of Transportation? Ask for the DOT Number.
Go to https://safer.fmcsa.dot.gov/CompanySnapshot.aspx  Type in company DOT Number and/or Name to pull up Safety Stats on Company.
Are they commercially insured? Is there at least $5,000,000 in personal injury coverage? If not, you or your company could be co-sued for excesses.
Are chauffeurs/drivers professionally trained, properly uniformed and DOT certified?
Are routine background checks and drug testing performed on all chauffeurs?
Does your time start at the time of pick-up or from when the vehicle leaves the garage?
Always ask if the vehicle is a current or older model.
Always ask if the chauffeur's tip is included, omitted or included in the quoted hourly rate.
Ask about any additional fees or surcharges not included in the quoted hourly rate.
Inquire about cancellation policy.
Are there mileage charges?
What is the minimum time for which you are obligated?
Will they allow you to see the vehicles you want and can they guarantee the availability?
Ask how the vehicle will be stocked (ice, glasses, etc.)
Do they allow beverages, coolers or food in the vehicle?
Does the vehicle have the equipment you may need for your event? (PA system, audio or video system). Is it working properly and is the chauffeur knowledgeable on its operation?
For All Your Transportation Needs
Contact GEM Transportation at (314) 731-1707