Photograph of our 27 Passenger Executive Series Mini-Coach ouside Scottrade Center
By Author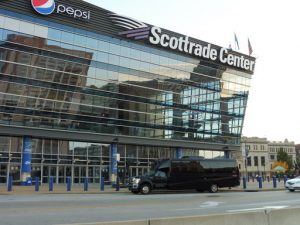 St. Louis Blues 2015-2106 Season Opener
Tonight is the night all BLUES Fans have been waiting for; the 2015-2016 Season.  The BLUES Season starts off tonight at home hosting the Edmonton Oilers at the Scottrade Center.  The Pre-Game Rally begins shortly at 4:00pm in the Clark Street Plaza.  Those attending the game are encouraged to be in their seat by 6:30pm.  A very Special and sure to be the largest Opening Ceremony in BLUES History will be held prior to the start you won't want to miss.
The puck drops at 7:00pm and the newest talent for the BLUES and Oilers will be on the ice tonight eager to display the skills and energy.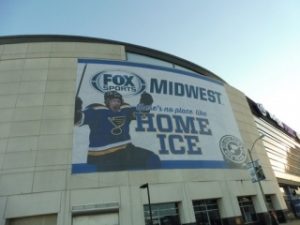 If you can't make the game because you're working like me, you can watch or listen on FOX Sports Midwest or KMOX 1120 AM.
Hope you'll call GEM Transportation for Luxurious and Professional Transportation to the home BLUES games throughout the Season.
Thanks and LET'S GO BLUES !!!